Chainlink (LINK) Breaches $8 Once Again: What Are Analysts Saying?
Bulls are once again driving Chainlink (LINK) higher after a slight retracement on parabolic price action.
As of the time of this article's writing, the asset is up by around 15% in the past 24 hours, rallying past $8.00 once again. It now trades for $8.30 — just a few percentage points below the all-time high price in the vicinity of $8.50.
Chart of LINK's price action since the March capitulation from TradingView.com
Chainlink Continues to Rip Higher, But What's Next?
Chainlink seems to be in a bullish place from an on-chain standpoint.
NewsBTC's Cole Petersen shared this chart below prior to the ongoing move, writing that:
"#Chainlink's steady march higher has been driven by a combination of new investors purchasing tokens and veteran investors increasing their exposure. Think of this as the coal that helps fuel the fire… It shows that the multi-year price rise *has been* sustainable."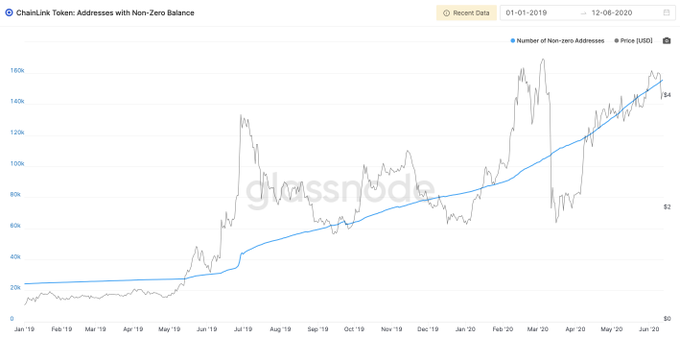 Chart shared by Cole Petersen of Chainlink's total addresses with a non-zero balance. Chart from Glassnode
There has also been a spike in LINK withdrawals from exchanges, according to Glassnode. To the blockchain analytics firm, this suggests:
"As such, while the waves of exchange deposits and high volumes signify that there is a significant market for trading LINK, it is clear that there is a meaningful contingent of LINK holders who intend to start and/or keep hodling for the time being."
Technical analysts are still trying to make sense of the rally as volatility in this market persists.
Altcoin Party Is Over?
Despite the strength in the altcoin market, some think that the "party" is over.
As reported by Bitcoinist, an analyst recently outlined three reasons why Bitcoin dominance is poised to surge higher, meaning altcoins will retrace against BTC. These reasons are: BTC's dominance has reached a weekly support horizontal, Bitcoin is primed to see a breakout, and the BTC market has historically underperformed in the third quarter.
There's also increasing sentiment against the efficacy of the altcoin market as a whole.
Jason Calacanis, a prominent entrepreneur and angel investor in Uber and Robinhood, said in June:
"Historically, 99% of crypto projects are garbage run by unqualified idiots, delusional but below average founders or grifters… the 1% that are not, could change the world. I'm waiting for that 1% to deliver their product so I can talk to their customers. you got customers?"
How this sentiment and narrative affects LINK, in particular, isn't clear at the moment.
Featured Image from Shutterstock
Charts from TradingView.com
Price tags: linkusd, linkbtc
Chainlink (LINK) Breaches $8 Once Again: What Are Analysts Saying