Fund Manager: Bitcoin Must Hold $8,800 or Risk "Cancelling" Rally to $20k
Just minutes ago as of this article's writing, Bitcoin and Ethereum have begun to break down from the lows of their consolidations over the past few days. For ETH, that meant the asset fell below $238-240. And for BTC, that meant losing the $9,200 region.
While this is by no means the massive bearish breakdown that some have been suspecting, it's triggered some alarms in the minds of traders.
One fund manager in the space, in fact, has reminded his followers that Bitcoin must hold the $8,800 to confirm any "bullish bias" moving forward.
Bitcoin Must Hold $8,800 Moving Forward
According to Mohit Sorout, a founding partner at cryptocurrency fund Bitazu Capital, Bitcoin needs to hold $8,800 to confirm the bull case moving forward. He even suggested that BTC will need to hold that level for it to rally to $20,000 this year.
Losing 88xx would mean $btc ATH is cancelled for 2020.

Must hold for any bullish bias.

— Mohit Sorout (@singhsoro) July 16, 2020
The crucial nature of $8,800 seems to be tied to the fact that on multiple corrections over the past month, the bearish price action ended at that exact level.
Sorout is one of the first to have identified $8,800 exactly as a level of importance. Other analysts are eyeing prices like $8,500 and $8,600 as levels Bitcoin must hold to avoid a continuation of the bear market that began last year.
Blockroots co-founder Josh Rager, for instance, shared that because Bitcoin has bounced off of $8,500 on multiple occasions over the past few weeks, it is of importance:
"BTC's range is clear. Current support that has been holding the past three weeks is the mid-range Break down here and price likely to see $8900 followed by $8500 range bottom," Rager wrote, referencing the chart seen below.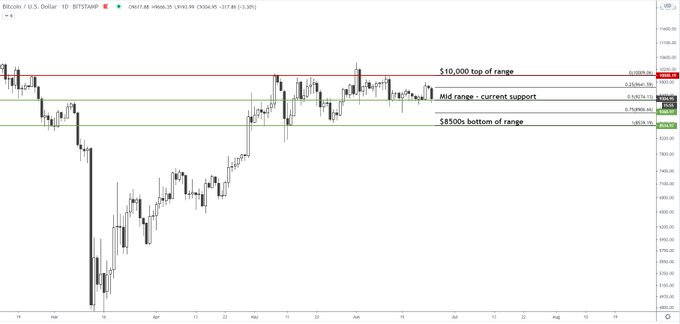 Chart of BTC's price action over recent months by Josh Rager (@Josh_rager on Twitter). Chart from Tradingview.com
While analysts can't agree on what exact price Bitcoin must hold, the consensus is clear: BTC must maintain prices in the current range or suffer a bearish plunge.
Will It Hold?
That raises the question of if these local lows will hold on any attempt by bears to break them.
From a purely technical standpoint, analysts have mixed answers to that question.
Simply speaking, though, Bitcoin's ability to hold $8,800 may come down to the price action of the S&P 500 and other global stock markets. After all, a strong bond has formed between Bitcoin and other capital markets in the time of the pandemic.
Unfortunately for bulls, as of this article's writing, the Shanghai Composite Index is down by 4.5% during Wednesday's trading session. U.S. stocks are likely to follow the Chinese markets lower, potentially resulting in a further correction for BTC.
Featured Image from Shutterstock
Price tags: xbtusd, btcusd, btcusdt
Charts from TradingView.com
Fund Manager: BTC Must Hold $8,800 or Risk "Cancelling" Rally to $20k