There's a "Real Chance" XRP Could Triple in the Long Run: Analyst
Believe it or not, XRP has been one of the best performing crypto assets of the past ten days.
After a brutal bear market that brought it 97% below its $3.50 all-time high, the asset surged past $0.30 late last week for the first time in many months. XRP even managed to fend off the bearish effects of Bitcoin's flash crash on Saturday, recently rebounding to pre-drop levels.
Chart of XRP's price action over the past two months from TradingView.com
Certain analysts say that the asset's strength is the start of a macro bull run that may bring the coin above $1.00.
XRP Could Be at the Start of a Big Bull Run
After Ethereum began to rapidly trend higher two weeks ahead, analysts began to price in a similar move for XRP. This expectation has played out as XRP has rocketed 30% higher in the span of a few days, outperforming almost every other legitimate cryptocurrency.
Seeing the recent rally, the head of technical analysis at Blockfyre — a crypto research firm — now thinks that XRP is on the verge of a macro bull run. In an analysis published on August 3rd, the trader wrote:
"A real chance at this being a macro reversal long term targets can be .93-$1.09. Close this 1W over 33c and you have your first macro HH in almost 1000 days signaling long term bullish."
Chart of XRP's macro price action with analysis by the head of technical analysis at Blockfyre "Pentoshi" (@pentosh1 on Twitter). Chart from TradingView.com
This bullish sentiment about the altcoin has been echoed by other market participants, who also pointed out the significance of the ongoing breakout.
XRP may also be buoyed by fundamental trends related to Ripple Labs, a fintech company that owns a large amount of the cryptocurrency.
In July, Spanish banking giant Santander revealed that it will continue its partnership with Ripple. The duo will be working on deploying Ripple's technology to boost Santander's global presence in new markets.
Don't Expect It to Outperform Bitcoin
Although XRP may be in a macro breakout against the dollar, a trader is cautious to admit the altcoin will outperform Bitcoin moving forward.
As reported by NewsBTC previously, he thinks the rejection on the weekend constituted a "bearish retest" of a pivotal macro resistance. Unless that retest is reversed, he expects XRP to undergo a 55% retracement against BTC.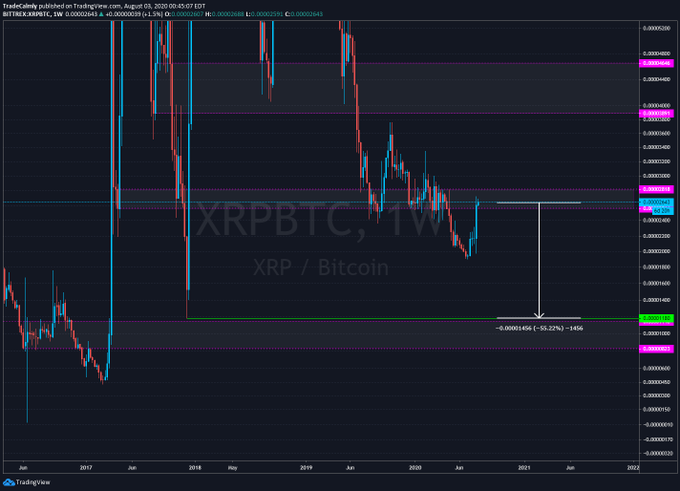 Chart of XRP's price action against Bitcoin over the past few years from full-time crypto trader "Calmly" (@im_calmly on Twitter). Chart from TradingView.com
Featured Image from Shutterstock
Price tags: xbtusd, btcusd, btcusdt
Charts from TradingView.com
There's a "Real Chance" XRP Could Triple in the Long Run: Analyst