XRP Could Crash 50% as Price Undergoes Critical Rejection: Analyst
Last week, analysts thought XRP was on the verge of a massive breakout. Against the dollar and against Bitcoin, the leading altcoin saw an explosive breakout that reminded some of the start of the infamous 2017/2018 pump.
Yet on Saturday night, just before the weekly close, the asset underwent a strong drop, as did many other altcoins. An analyst says that this drop confirmed that a macro "bearish retest" has formed on XRP's macro chart against Bitcoin.
Analyst: XRP Is Facing a 50% Drop Against Bitcoin
XRP failing to surmount the horizontal resistance at 2,800 satoshis during last week's rally may suggest the asset faces a 55% correction against Bitcoin.
That's according to a trader who predicted much of the recent price action in the cryptocurrency markets.
He explained in a recent analysis that as long as the asset doesn't reclaim the aforementioned resistance as support, last week's rally constitutes a "bearish retest":
"Until proven otherwise, this is a bearish retest on the $XRP / $BTC chart of a range that we previously broke down from. I am going with the assumption that $XRP has one final capitulation lower before it really outshines #bitcoin."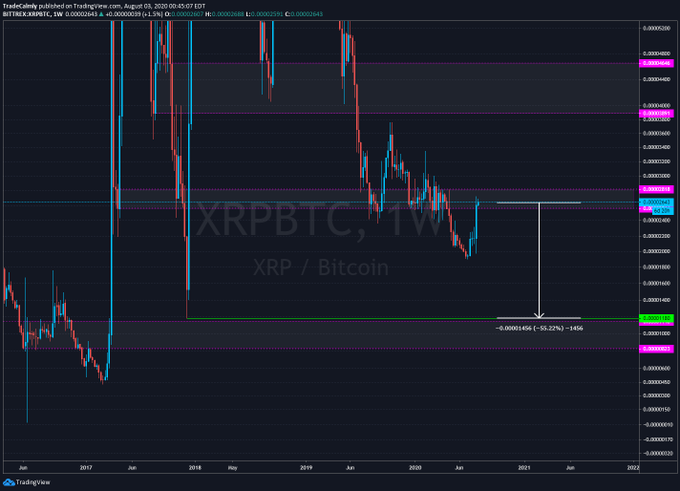 Chart of XRP's price action against Bitcoin over the past few years from full-time crypto trader "Calmly" (@im_calmly on Twitter). Chart from TradingView.com
His macro price target for XRP, assuming it doesn't reclaim the 2,800 satoshis resistance, is 1,180 satoshis. That latter level acted as pivotal support for XRP during a rapid correction in late 2017.
Corroborating the bearish point of view about XRP's outlook is social media data.
The TIE and eToro — a blockchain analytics firm and trading platform, respectively — recently released an extensive report on cryptocurrency market trends in Q2 2020.
The two companies found that over the course of the second quarter, social media volumes for XRP dove despite the asset's recovery from the March lows:
"While existing crypto investors became increasingly positive about the industry, there was no mainstream euphoria surrounding crypto post-halving. 73% of cryptos saw a decreased number of tweets in Q2."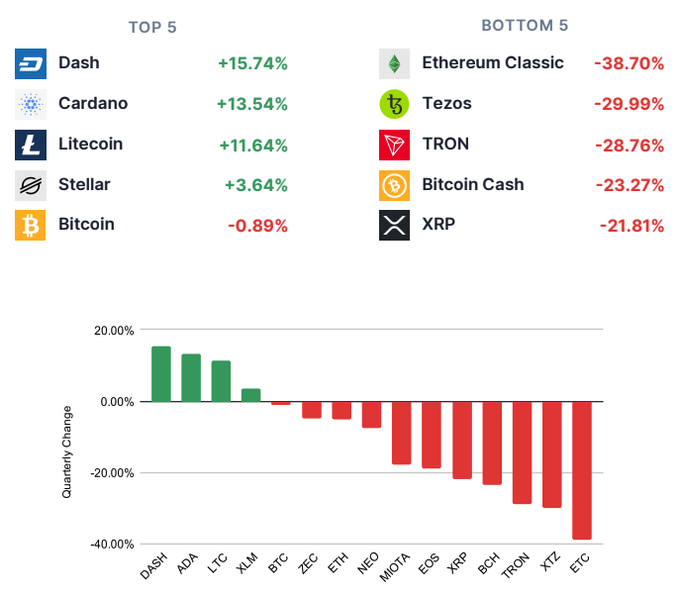 Data from eToro and The TIE of the social media volume of top crypto assets over Q2 2020 vs. Q1 2020
Bitcoin Could Range, Boosting Case For Altcoins
Analysts, though, may catch a bid as altcoins may proceed to rally after Bitcoin and Ethereum seemingly prepare to enter a trading range. One trader commented on his outlook on Bitcoin volatility moving forward:
"I think BTC and ETH just sideways now, that move is probably peak volatility of this or next few weeks. Bidding DeFi alts here because as we sideways, focus will shift again."
Bitazu Capital's Mohit Sorout told this writer in an interview that if BItcoin volatility subsides, capital is likely to flow to altcoins. XRP, of course, would be a beneficiary of these inflows.
Featured Image from Shutterstock
Price tags: xrpusd, xrpbtc
Charts from TradingView.com
XRP Could Crash 50% as Price Undergoes Critical Rejection: Analyst