Ethereum Could Soon Set "New Highs" as $400 Resistance Weakens: Analyst
Ethereum has bounced back quickly after last weekend's 26% crash from its highs. As of the time of this article's writing, the leading cryptocurrency has a price of $399 — just 4% below the year-to-date high.
Analysts say that pressure is building for a large move higher as the $400 resistance comes under fire.
Further boosting the Ethereum bull case is a slew of fundamentals, including the growth in decentralized finance and accumulation of ETH by institutions.
Ethereum Will Soon See "New Highs" If This Level Fails
Global markets are rallying higher on August 5th after news spread that the next U.S. stimulus bill is nearing completion. Gold has pushed new all-time highs, the S&P 500 is approaching its all-time high, and the cryptocurrency market is undergoing a jump.
Ethereum has been no exception to this global surge in asset prices. In the past 24 hours as per data from TradingView, the asset has gained four percent.
Crypto analyst Michael Van De Poppe sees this price action as a precursor to more upside.
He shared the chart below on August 5th, indicating that ETH has reached the pivotal $396-400 horizontal resistance. This level held as resistance during a relief rally earlier this week.
According to him, Ethereum surmounting this level will trigger a move to "new highs" above $415:
"Well, closed my short at break. Let's see how this plays out. Held the crucial support level & flipped the intermediate level for support + attacking the resistance. Break of resistance = leading towards new highs, I'd assume."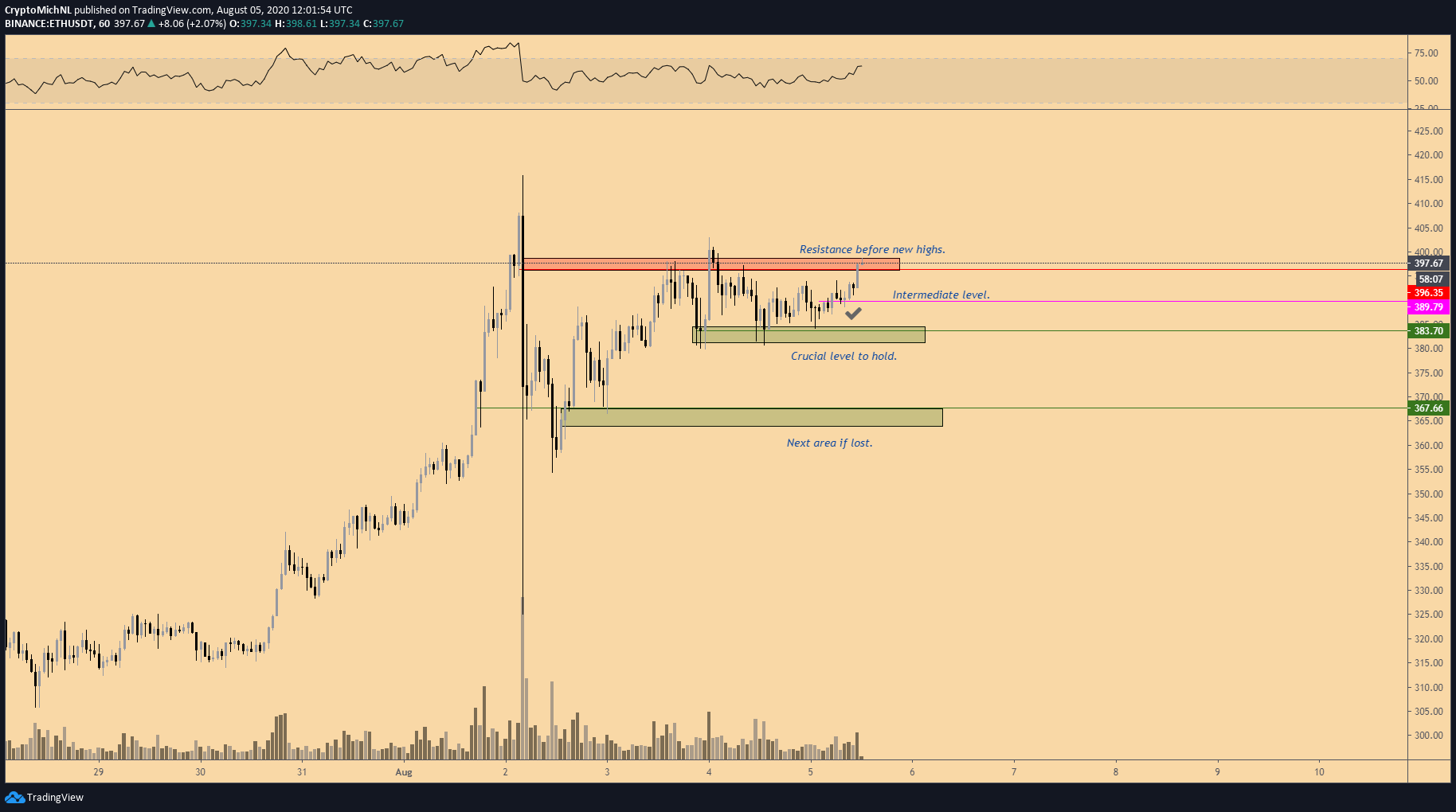 Chart of ETH's recent price action with analysis by trader Michael Van de Poppe (@Cryptomichnl on Twitter). Chart from TradingView.com
The expectations of new highs have been corroborated by another cryptocurrency trader. This trader argued that he sees "NOTHING bearish" about Ethereum's chart, pointing to the recent consolidation above critical support levels.
Bitcoin may be leading this leg of the rally, though, so ETH's price action may be dependent on that of BTC.
ETH's Fundamental Trends
Also spurring Ethereum's recent price action are fundamental trends. The fundamentals of a blockchain drive much of the interest in the accumulation and sale of its underlying cryptocurrency.
Data from DeFiPulse indicates that over the past month, more than 800,000 ETH has been deposited in DeFi contracts. This means that there is now nearly 4% of all ETH in circulation currently in DeFi protocols.
The absorption of Ethereum that DeFi enables means coins are taken off the market, reducing potential selling pressure.
Spencer Noon, head of DTC Capital, added that he thinks the growth in DeFi is spurring institutional investors to buy Ethereum:
"My read on #DeFi after speaking with instl investors, fund mgrs, OTC desks, and FOs over the last few wks: The herd is coming. They're excited about DeFi but new to it, so they're buying $ETH first."
Noon added that he expects for this interest in Ethereum to eventually materialize in DeFi-focused altcoins.
Featured Image from Shutterstock
Price tags: ethusd, ethbtc
Charts from TradingView.com
Ethereum Will Soon Breach "New Highs" as $400 Resistance Weakens: Analyst