Coinbase Managed to Save 75% on Bitcoin Transaction Fees: Here's How
A big issue that many crypto traders and investors run into is high transaction fees when withdrawing Bitcoin and other digital assets from exchanges. Some platforms, in fact, are infamous for charging in excess of $5-10 for the processing of a withdrawal.
There are solutions to this issue, though. Coinbase, earlier this year, rolled out "transaction batching" for Bitcoin withdrawals.
The company has since announced that this has allowed them to realize 75.2% savings on transaction fees, reducing the cost to use Coinbase for customers.
How Coinbase Realized 75% Savings on Transaction Fees
Transaction batching is the process in which crypto service providers package multiple withdrawal requests of Bitcoin (or another UTXO-based cryptocurrency) from customers into a single transaction. This decreases the transaction fees incurred by the transactor, this more often than not being crypto service providers.
According to a blog post published by Coinbase's Brock Miller on August 11th, this system has allowed the company to spend one-quarter the amount of BTC they spent on Bitcoin before:
"Earlier this year, Coinbase rolled out Bitcoin transaction batching. Since launching, we have batched 100% of Coinbase Consumer and Coinbase Pro customer send requests for Bitcoin. Over this time, we've realized 75.2% savings in transaction fees and have passed all of those savings on to our customers. We've also reduced our daily transaction count by 95%."
Coinbase's implementation of this system went on to help the rest of the Bitcoin network, as Coinbas transactions accounted for a sizeable portion of on-chain transactions before batching was implemented.
"Conservative estimates suggest that this has contributed to a 10–15% reduction in the number of confirmed transactions per day on the entire network. This transaction count reduction is beneficial for the network as a whole, and should help lower fees for all Bitcoin users."
Ethereum's Transaction Fee Situation
Coinbase's comments on Bitcoin transaction fees come as Ethereum has been seeing its own issues with high transaction fees.
As reported by NewsBTC previously, Ethereum transaction fees are reaching highs not seen since the summer of 2015. As economist Alex Krüger explained:
"High demand is driving Ethereum gas prices up. The 30 day average gas price has recently reached levels only seen in the summer of 2015, right after Ethereum launched."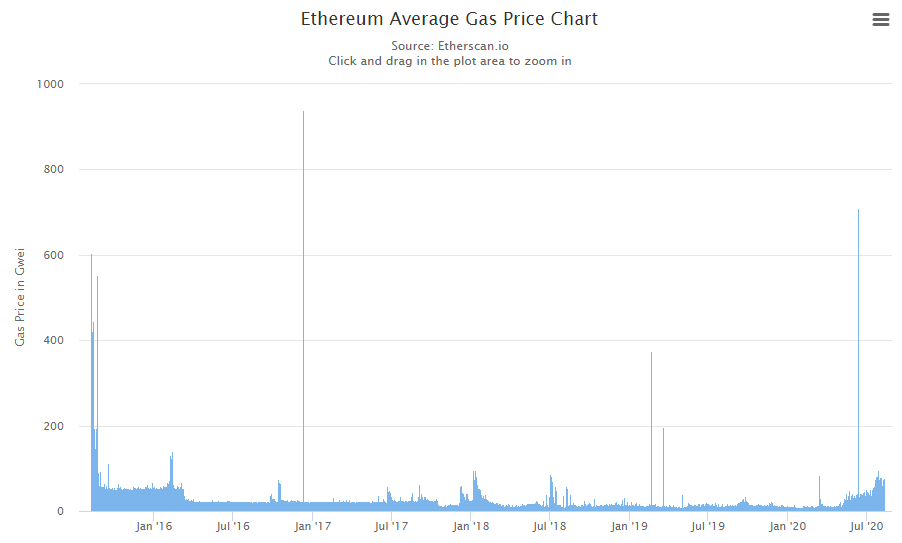 Chart of the average gas cost (Gwei) of Ethereum transactions from Etherscan, shared by Alex Kruger, a cryptocurrency analyst and economist.
Ethereum is also seeing the implementation of solutions to stem this issue, which has become especially pertinent as DeFi has garnered traction.
Featured Image from Shutterstock
Price tags: xbtusd, btcusd, btcusdt
Charts from TradingView.com
Coinbase Managed to Save 75% on Bitcoin Transaction Fees: Here's How