Mike Novogratz: Bitcoin and Gold Likely to Head Even Higher This Year
Mike Novogratz, the founder of Galaxy Digital, thinks Bitcoin and gold are likely to head higher towards the end of the year. He reiterated this position in a tweet published on August 12th.
This comes as Bitcoin has stalled in the high-$11,000s. The cryptocurrency's inability to surmount the $12,000 resistance has led some commentators to suggest that BTC is on the verge of correcting lower.
One trader, for instance, published the tweet below. It suggests that since BTC has failed to surmount $12,000 on multiple occasions, it is primed to move towards the middle of the macro range around $8,000-9,000.
Chart of BTC's macro price action with analysis by TraderXO, a cryptocurrency analyst. Chart from TradingView.com
Novogratz seems to be unphased, though.
Bitcoin Likely to Move Even Higher: Novogratz
In a tweet published on August 12th, Mike Novogratz, a former Goldman Sachs partner, asserted that Bitcoin's rally isn't over yet:
"Going on @SquawkCNBCat 8.05am. Always fun. I don't think we have seen the highs in gold or BTC for the year. Or stocks."
Going on @SquawkCNBC at 8.05am. Always fun. I don't think we have seen the highs in gold or BTC for the year. Or stocks 😂.

— Mike Novogratz (@novogratz) August 12, 2020
This isn't the first time Novogratz has mentioned this opinion. Speaking with CNBC regarding Bitcoin's breakout past $10,000, the Wall Street veteran said that BTC could hit $14,000 in the following months, then $20,000 by the end of the year. He cited the vast amount of money printing taking place and how this narrative is increasing interest in gold and Bitcoin:
"Bitcoin still has a lot of retail interest in it. A lot of that retail interest shifted to the story stocks, to the tech stocks, because they were just more fun … Yesterday you saw a lot of money shift back over to gold and bitcoin."
Not the Only One That Thinks So
Novogratz isn't the only one that thinks Bitcoin's rally is just starting.
Dan Tapiero — the co-founder of DTAP Capital, Gold Bullion International, and other companies — shared the chart below, writing:
"Tremendous long term Log Chart of #Bitcoin projects up 5-10x on this run. Just breaking up NOW. Should last a few years as 2.5yr consolidation is fantastic base for catapult up. Break of old highs will have explosive follow through. Time to sit and be patient."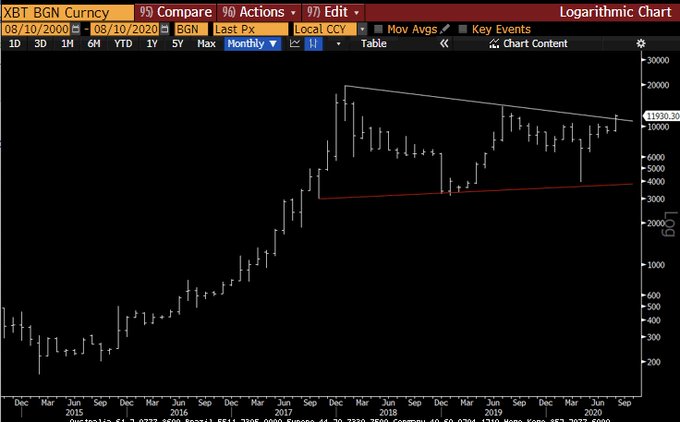 Chart of BTC's macro price action (Logarithimic chart) by Bitcoin bull and gold investor Dan Tapiero. Chart from Bloomberg
The expectations of an exponential rally in the near future have been echoed by Raoul Pal, CEO of Real Vision. The Wall Street veteran commented in a recent Twitter thread that he thinks Bitcoin will be the best-performing asset by a long shot in the next two years.
Featured Image from Shutterstock
Price tags: xbtusd, btcusd, btcusdt
Charts from TradingView.com
MIke Novogratzs: Bitcoin and Gold Likely to Head Higher This Year