Here's What Analysts Think Is Next After Ethereum Shoots 12% Higher
It's been an explosive past few days for Ethereum. After consolidating under $400 for a number of days, the leading cryptocurrency shot higher on Thursday and then continued its ascent into Friday.
As of this article's writing, ETH is up 12% in the past 24 hours. It trades at $444, surging decisively past the previous year-to-date high set at the start of this month.
Bitcoin is following suit, rallying a handful of percent as Ethereum continues to outperform the market leader.
Here's what analysts think comes next for ETH after it saw a technically critical breakout, surprising many analysts.
Ethereum Is Poised to Surge Even Higher
Ethereum is expected to rally further after already gaining 12% in a 24-hour time span. One historically accurate trader shared the chart seen below. It indicates that ETH's ongoing breaking is one of technical significance because it moved above a multi-week downtrend. The trader thinks Ethereum reaches $480 in the coming days, which would mark an 8% rally from current prices.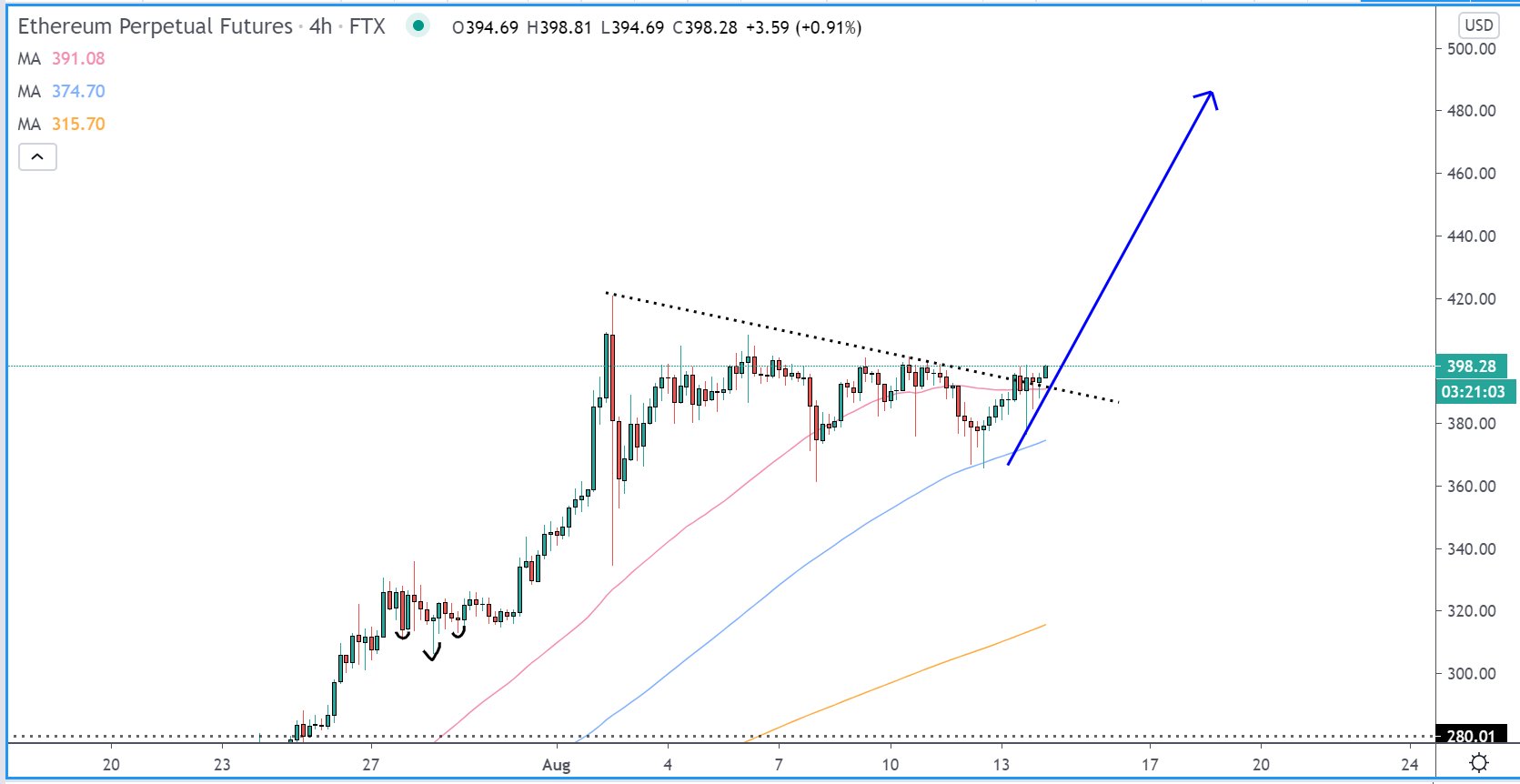 The head of technical analysis at Blockfyre, a crypto research firm, seemingly agreed with this expectation, writing:
"$ETH looking ready for another leg up imo. $450 weekly resistance up next on the plate. Wouldn't be surprised to see a lot of this alt money flow into Eth and see some healthy corrections across the board short term. Reducing some exposure to move to Eth."
A top-performing trader on Binance has shared even greater optimism than that mentioned above. He noted that in terms of Ethereum's macro price performance, there aren't any "hard resistance" levels until $780.
Transaction Fees Are an Issue
Although many traders will embrace a higher Ethereum price, an issue arises when you consider transaction fees.
Ethereum has been struggling with extremely high transaction fees over recent days. On August 12th, ETH miners made over 70% of their revenue from transactions alone, which generated around $7 million worth of fees on that one day.
If ETH's price continues to increase while demand for transactions remains high, we could feasibly see a world where it costs over $5 to send ETH, $10 to send tokens, and many more to transact with DeFi.
These high transaction fees could result in a "hard cap" on the ongoing cryptocurrency rally. Jacob Franek, a co-founder of blockchain data firm Coin Metrics, commented on the matter:
"Gas prices will put a hard cap on this DeFi bull run. To be expected and probably a good thing… High gas likely new normal."
Where this hard cap is, though, depends on how much Ethereum users are willing to pay to transact and interact with the network.
Photo by Johannes Plenio on Unsplash

Price tags: ethusd, ethbtc
Charts from TradingView.com
Here's What Analysts Think Is Next After Ethereum Shoots 12% Higher