Here's Why Crypto Analysts Are Optimistic About Matic Network (MATIC)
Matic Network (MATIC), a popular altcoin, has surged 9% in the past 24 hours. The asset's strong price performance comes in spite of Bitcoin and Ethereum stagnating, giving altcoins the opportunity to break higher.
While the ongoing move is nascent, analysts are optimistic about MATIC's long-term price prospects. These analysts cite technical factors and the project's strengthening fundamentals.
Analysts Think MATIC Has Room to Rally
Against Bitcoin, Matic has only been rallying for three or four weeks, but analysts are already expecting a macro bull market.
One trader shared the chart below, indicating that MATIC's BTC pairing shows a parabolic move higher is likely. "The $MATIC train has left the station. CHAD candle, +15% since the first tweet," the trader wrote, referencing how the ongoing breakout is likely to wrest the altcoin higher.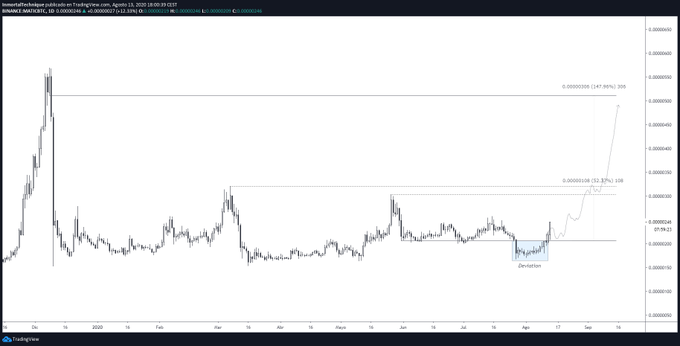 Chart of MATIC's macro price action against Bitcoin with analysis by trader Inmortal Technique (@inmortalcrypto on Twitter). Chart from TradingView.com
This optimism was echoed to a T by the pseudonymous head of technical analysis at Blockfyre, a cryptocurrency research firm. This trader shared a similar chart to the one above that indicates MATIC will enter "price discovery" to set a new all-time high:
"This laggard finally getting ready to join the party. Interested in the recent highs at 303 and ultimately price discovery. I think the news coming out will get it there."
Against the U.S. dollar, MATIC is also in a bullish state, analysts say. One trader who has accurately called altcoin price action over the past two months argued in an analysis that with MATIC moving above a macro resistance, it is poised to double to $0.05 in the coming months.
The Need for Ethereum Sidechains and Scaling Tech
The cryptocurrency may be boosted by the need for Ethereum scaling technology. For those unaware, Matic Network is an Ethereum-centric sidechain/scaling technology protocol that can process upwards of 60,000 transactions per second. As the project's marketing copy reads:
"Decentralized Apps are making huge progress but the current blockchain ecosystem is not prepared to scale as per the demand. The issues of slow block confirmations and high gas fees need to be solved before we target mass adoption by mainstream users… We aim to change that by simplifying the interaction between users and the decentralized world."
With Ethereum seeing record transaction fees, solutions like Matic are needed to attract users.
Featured Image from Shutterstock
Price tags: maticusd, maticbtc
Charts from TradingView.com
Here's Why Crypto Analysts Are Optimistic About Matic Network (MATIC)