Even After 350% Jump from March, Ethereum Still Faces a Key Resistance
Ethereum crashed as low as ~$85 during March's capitulation drawdown, crushing the hopes of investors in the asset. But due to a recovery in the price of Bitcoin and in most global markets, ETH has surged higher.
From those lows, the asset is now up by around 350%, recovering to $385 as of this article's writing. At the local highs, Ethereum traded for $440, with bulls managing to wrest the asset much higher than it was before.
With this recent move, ETH's macro bear market structure was broken. Ethereum has now formed a higher high on a macro time frame, suggesting it is poised to move higher in the months ahead.
An analyst believes, though, that Ethereum is facing down a pivotal resistance level that will halt any rally until it is claimed as support.
Ethereum Has One Pivotal Resistance to Cross Above
According to one analyst, Ethereum faces a crucial monthly price resistance at $390. The level acted as macro resistance and support for the leading cryptocurrency over its storied history, especially during the 2017 run-up and 2018 correction.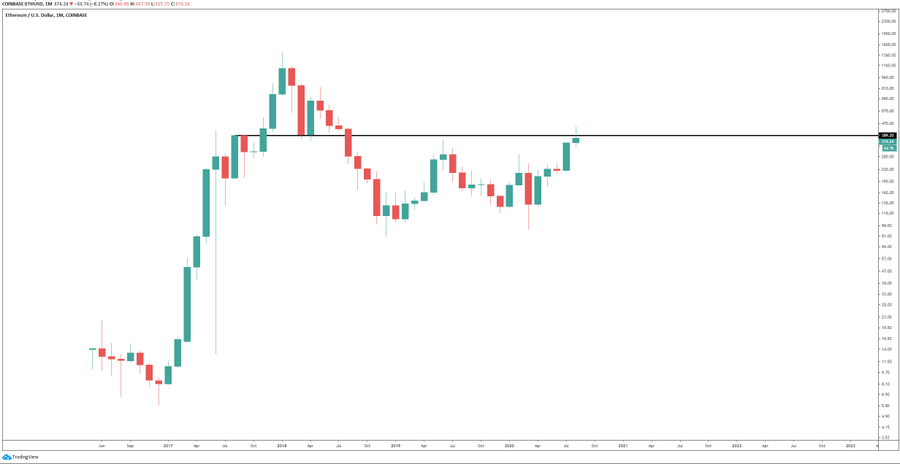 Chart of ETH's price action over the past few years with analysis by crypto trader @CryptoCred on Twitter. Chart from TradingView.com
While analysts say that the asset is poised to clear above the resistance level in the near term, there are some short-term causes for concern.
IntoTheBlock, a blockchain analytics firm, reports that there are crucial bearish trends in the short term. As of Aug. 25, four out of seven of the firm's core metrics for Ethereum are printing "bearish" readings: in the money, large transactions, bid-ask volume imbalance, and futures market momentum.
It has also been noted by IntoTheBlock's contemporary Santiment that the number of daily active users on the Ethereum network has shrunk in recent weeks, seemingly in response to the strong increase in transaction fees.
Bulls Are Still in Control: Fundamentals
Bulls are still optimistic about Ethereum despite the recent uncertainties surrounding its price action.
Raoul Pal, the founder of Real Vision and a Wall Street veteran, has said on a number of occasions that he thinks that Ethereum will see a spike in adoption due to decentralized finance. He added that ETH is an adoption game, with DeFi being the driving catalyst for growth.
Chris Burniske, a partner at Placeholder Capital, echoed the optimism. He noted that Ethereum "strong on-chain economies" will allow it to breach a one-trillion-dollar market capitalization in this market cycle.
Featured Image from Shutterstock
Price tags: ethusd, ethbtc
Charts fromt TradingView.com
Even After 375% Jump from March, Ethereum Still Faces a Key Resistance