Singapore Exchange to Bring Regulated Bitcoin and Ethereum Cryptocurrency Indices to Asia
Singapore Exchange Ltd (SGX) has announced plans to launch two new cryptocurrency indices.
The iEdge Bitcoin Index, and the iEdge Ethereum Index, will bring certified price referencing to the Asia region.
Head of Index Services at SGX, Simon Karaban said the lack of transparency in the cryptocurrency space has left a huge gap in the marketplace. He believes the Bitcoin and Ethereum indices will go some way towards plugging that gap.
What's more, Karaban emphasized the positive effect this will have on the industry as a whole. After all, regulators will be much more open to cryptocurrency derivative products if they operate on a regulated exchange.
"It's important to bring transparency to this segment of the market. In addition, regulators in Asia are more receptive to creation of derivatives products if they're on regulated exchanges."
SGX have enlisted the help of UK-based cryptocurrency market data specialists CryptoCompare in this venture.
Using data provided by CryptoCompare, the iEdge indices will calculate an aggregated price for Bitcoin and Ethereum against the USD.
By using an Exchange Benchmark rating system, the iEdge indices derive price data only from exchanges rated AA and A. In addition, a weighting system gives more emphasis to the top AA-rated exchanges.
"The Benchmark adoptsan innovative ranking methodology that utilises a combination of qualitative and quantitative metrics and assigns a AA -F grade to help identify the lowest risk venues in the industry. iEdge Cryptocurrency Indices use prices from top rated (AA and A) exchanges only."
Growth in Asian Cryptocurrency Tracker Funds Expected to Rise
On the partnership with SGX, CryptoCompare Commercial Director James Harris reiterated the importance of bringing transparency to the market by using trusted data and sound methodology.
"Our mission is to bring greater transparency to the digital asset class by providing high-quality, trusted data and indices."
What's more, the opportunity for Asian cryptocurrency indices is promising. Research conducted by CryptoCompare shows huge growth potential for the iEdge indices.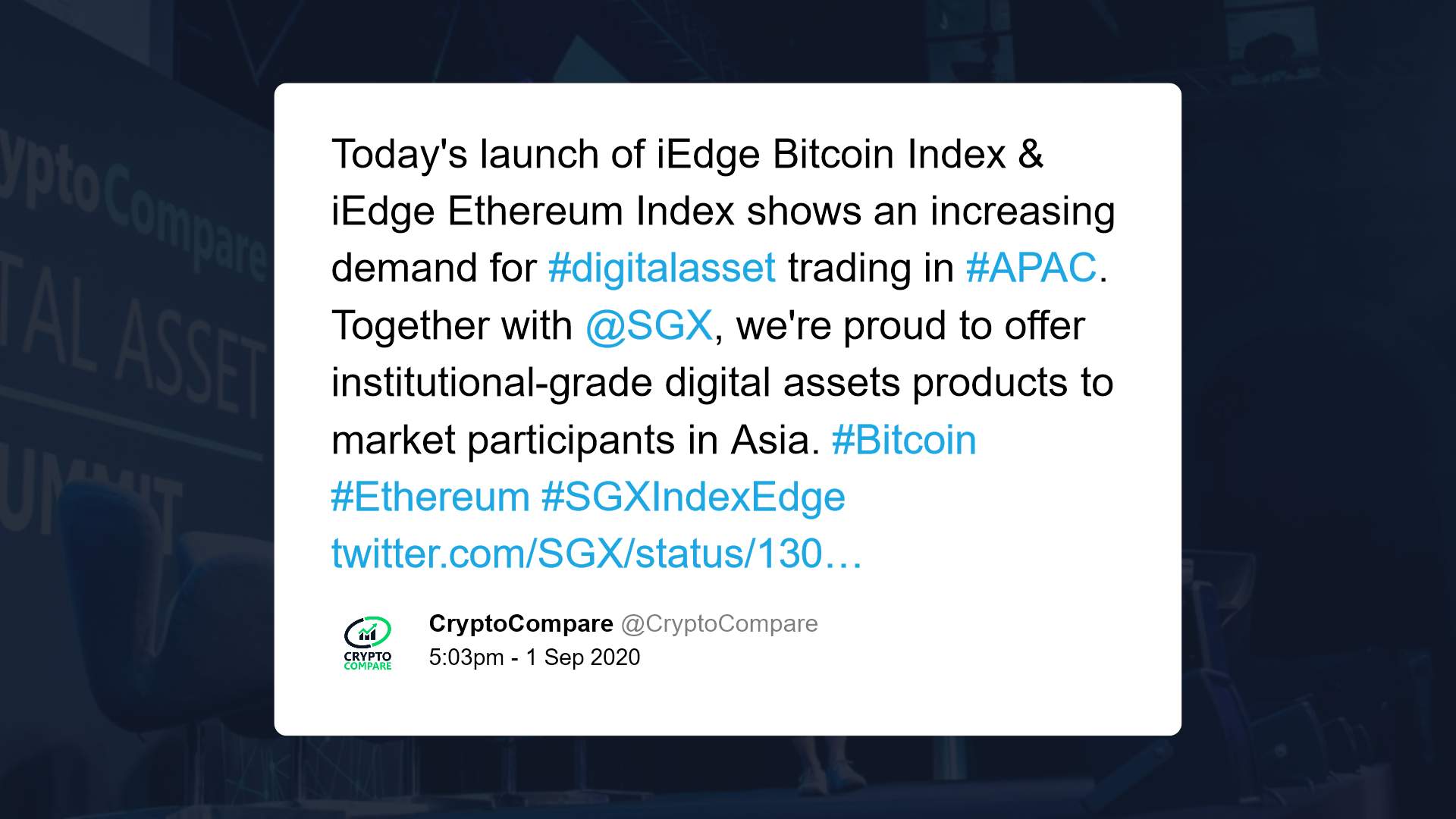 Source: twitter.com
In March 2017, global cryptocurrency tracker funds had total assets under management of $220 million. But by June 2020, this figure had risen to $4.5 billion.
This represents a compounded growth rate of just under 150% per year.
"While much of the AUM is currently captured by asset managers based in the United States and the Europe, Middle East and Africa (EMEA) region, Asia is well-positioned to raise its share of this global AUM given that Asian fiat-crypto trading pairs now account for 43 per cent of total global spot volumes."
As emphasized by CryptoCompare, only a small proportion of this expansion came from Asia, meaning the scope for further expansion in the region is massive.
Industry observers consider SGX to be one of Asia's top exchanges.
The latest market stats show there were 716 companies listed on the SGX with a combined market cap of $814 billion.