This Eerie Fractal Predicts Ethereum Will Soon Trade At $500
Ethereum could bounce towards $500 after dropping from its $480 highs. The leading cryptocurrency now trades for $380, having been pressured lower by Bitcoin dropping, which itself was catalyzed by weakness in legacy markets.
Ethereum Could Soon Jump to $500
One trader thinks that Ethereum is currently trading in a textbook broadening wedge, which are often bullish patterns when they are ascending.
He shared the two charts below, which show that Ethereum is trading in a broadening wedge as Bitcoin did during the rally in April 2019. This fractal predicts that ETH will soon bounce from its local lows towards the local highs, then to fresh year-to-date highs above $500.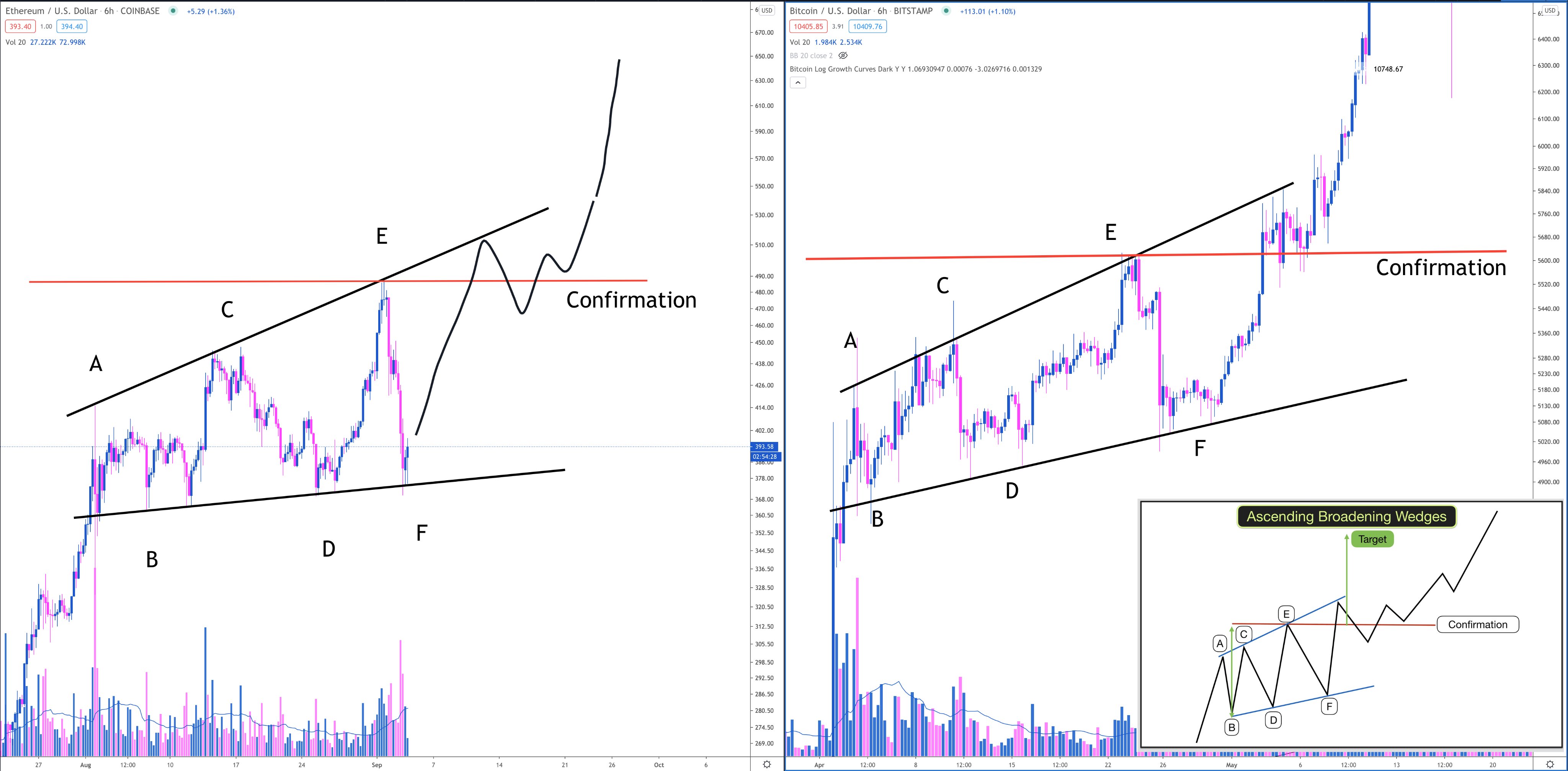 Chart of ETH's price action over the past few weeks compared to Bitcoin's price action in 2019 by crypto trader Polar Hhnt. Chart from TradingView.com
This sentiment is much different than that shared by one historically accurate trader who predicted Bitcoin's 2018 lows six months in advance. This trader indicated that a drop towards $300 may soon be had.
Fundamental Risk in High Transaction Fees
Ethereum may face a fundamental risk to its rally, though: high transaction fees. Due to intense congestion on the blockchain caused by an uptick in decentralized finance adoption, the cost of sending ETH and interacting with the blockchain in other ways has reached extreme levels.
Simon Dedic of Blockfyre recent commented on the matter:
"I spent like 800 USD in transactions fees for few trades today. Furthermore, I lost around 10k USD when trying to sell today, because a tx with lower nonce didn't go through for 3h. $ETH 2.0 has to come ASAP, otherwise I feel gloomy about its future.."
There are solutions on their way, though.
Vitalik Buterin, the founder of Ethereum, recently commented that there are solutions such as rollups or ETH2's sharding technology:
"In a rollup-heavy ecosystem, on-chain gas fees would remain the same, and 465 gwei may even become the norm, but most transactions would be happening inside rollups, where actual fees paid by users would be hundreds of times lower. The only solution to high tx fees is scaling. Tether, Gitcoin and other apps are doing the right thing by migrating to ZK rollups today. I'm excited about the soon-upcoming optimistic rollups that will generalize rollup scaling to full EVM contracts."
A quick thread on supply and demand economics, and why certain "naive" solutions to high gas prices won't work. pic.twitter.com/lmmyx0x8vL

— vitalik.eth (@VitalikButerin) September 2, 2020
Whether or not these solutions will come in time to prevent an Ethereum correction, though, remains to be seen.
Featured Image from Shutterstock
Price tags: ethusd, ethbtc
Charts from TradingView.com
This Eerie Fractal Predicts Ethereum Will Soon Trade At $500