Analysts Expect Bitcoin to Continue Rally After Recovering to $18k
Bitcoin faced a strong drop two evenings ago when it fell from $18,500 to $17,500 in the span of minutes. But true to the volatility of the market, the cryptocurrency has quickly bounced back. As of this article's writing, the price of BTC sits slightly above the key $18,000 resistance, though was as high as $18,200 just hours ago.
Analysts think that Bitcoin will continue its ascent as it manages to hold the low-$17,000s as support. The low-$17,000s are of importance on a technical level to Bitcoin because these levels acted as support and resistance during the 2017 and 2018 peak.
Bitcoin Set to Move Even Higher, Analysts Say
Analysts think that Bitcoin moves higher from here as it manages to hold the low-$17,000s as support. A cryptocurrency analyst, referencing the chart seen below recently said:
"sigh this is so retarded bullish strong daily close here and we're prob taking ATH today or tomorrow on btc same pattern as 16k, first long ass bottom wick from initial profit-takers second long ass bottom wick from subsequent profit takers on the bounce next time it runs imo."
Chart of BTC's price action over the past few days with analysis by CryptoGainz
Source: BTCUSD from TradingView.com
As he explains, he thinks that the fact the cryptocurrency has managed to hold the low-$17,000s is a sign that it will soon move to $20,000. The two wicks seen in the chart above shows strength in Bitcoin price as it suggests there is a group of traders looking to buy the dip at that level.
Not the Only One That Thinks So
There are other traders predicting a Bitcoin rally from here.
Another trader shared the chart seen below, which shows that Bitcoin's recent price action is bullish as it is managing to flip the low-$18,000s into support. This should trigger a move higher as this region has acted as resistance on multiple occasions over the past few days.
Bitcoin is also set to push higher on fundamental trends, such as the increase in money printing and further institutional and retail interest in this space.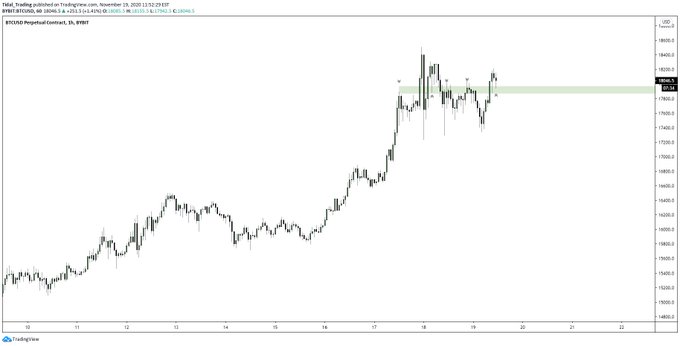 Chart of BTC's price action over the past few days with analysis by HornHairs
Source: BTCUSD from TradingView.com
Featured Image from Shutterstock
Price tags: xbtusd, btcusd, btcusdt
Charts from TradingView.com
Analysts Expect Bitcoin to Continue Rally After Recovering to $18k