Here's Why Analysts Think Ethereum Could Go Parabolic to $800 Soon
Ethereum has enjoyed a massive rally over the past two days despite some weakness on the part of Bitcoin. The leading cryptocurrency has rocketed from the $500 region to highs near $600 as of this article's writing.
ETH currently trades at $590, dropping slightly as Bitcoin shows some weakness after an impressive 70% rally. Ethereum is set to move even higher in the days and weeks ahead, analysts say, as it clears notable resistance levels in the high-$500s and the $600 region.
The coin also seems to be benefiting from the upcoming launch of ETH2, assuming it takes place on time. Investors that want to participate in the genesis event for Ethereum 2.0 have to buy 32 units of the coin to become a validator, presuming they don't own any coins as is.
Many in the space expect the launch of the upgrade to mark a strong shift in the economics of the coin, which should lead to a longer-term bull run.
Ethereum Set to Move Even Higher, Analysts Say
Analysts think that Ethereum is primed to move even higher in the days and weeks ahead. The reason: the cryptocurrency has managed to break cleanly past notable resistances during this strong move higher.
Ethereum currently faces no notable resistances until the $800 region if it manages to pass $590-600 on a daily level today.
Plus, the Ethereum weekly candle was arguably extremely bullish when it came in approximately a day ago.
Commenting on the chart seen below, which shows ETH's macro price action against the price of USDT, a trader who predicted 2018's lows months in advance said:
"i repeat, there is no resistance on $eth from here until $800, literally nothing, that is all."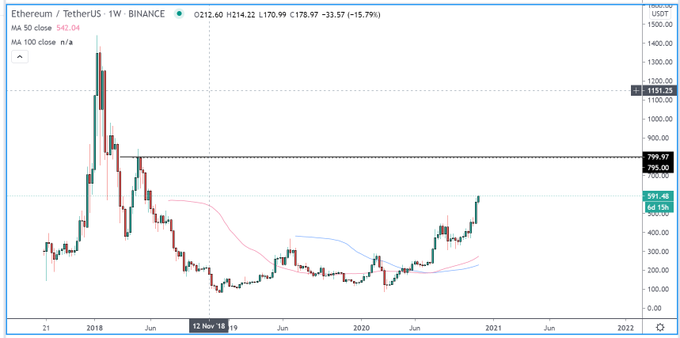 Chart of ETH's price action over the past few years with an analysis by crypto trader SmartContracter (Twitter handle).
Source: ETHUSD from TradingView.com
ETH Becoming Deflationary
Boosting Ethereum right now may be the prospect that the coin could become deflationary over time.
Commenting on how the implementation of ETH2 plus EIP-1559 could drive the issuance rate to negative, Vitalik Buterin recently said:
"The issuance schedule is ~4.7M per year for the next ~1-2 years or however long it takes until the merge, and then ~0-2M per year minus burned fees (which could be even greater than the issuance!) once PoS is fully in place. I don't think it's even productive to give any kind of different answer. That said, I do hope that the fact that the phase 0 code is finished and is basically just waiting for people to deposit has significantly de-risked the transition compared to eg. even six months ago!"
For the issuance rate of ETH to actually be narrative, though, there would have to be a large amount of transactions.
Featured Image from Shutterstock
Price tags: ETHUSD, ETHBTC
Charts from TradingView.com
Here's Why Analysts Think Ethereum Could Go Parabolic to $800 Soon