Analysts Eye Ethereum Move to $800 as ETH2 Upgrade Nears
Ethereum is exploding higher as Bitcoin has pushed to new year-to-date highs just shy of $20,000. The price of the leading cryptocurrency currently is $615, slightly below the year-to-date highs but far above where it was just a week ago.
Bitcoin and Ethereum's latest surge higher comes seemingly as a result of institutional buying pressure. Along with many public fund managers on Wall Street announcing their support for cryptocurrencies, analysts have noted a spot bid pushing the market higher.
Analysts are optimistic that Ethereum, especially will soon move higher as a result of positive fundamental trends. Bitcoin continuing to rally could give ETH further fuel to move higher as well.
$800 Is Next for Ethereum? 
An analyst recently shared the chart seen below, noting that Ethereum could move to $800 as it manages to move above key technical levels.
The chart shows that ETH reclaimed the key $420 level as support during the correction in October. Ethereum confirming this level as support should confirm a move toward $800, the analyst suggests.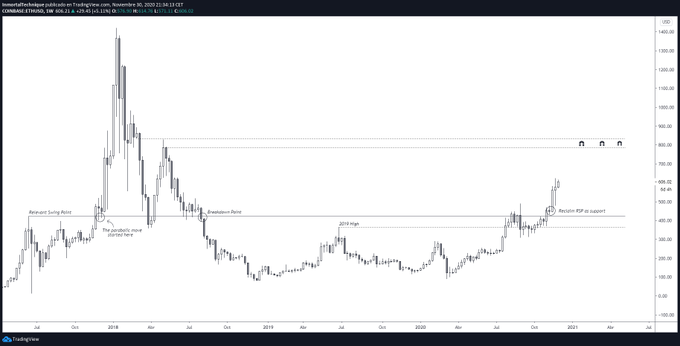 Chart of ETH's price action over the past few years with an analysis by crpyto trader Inmortal Technique (@Inmortalcrypto on Twitter).
Source: ETHUSD from TradingView.com
Bitcoin is Bullish Too
Bitcoin is expected to move higher in the medium to long run as well, boosting Ethereum's probability of moving seriously higher.
Jim Cramer, the prominent ex-hedge fund manager and CNBC host, recently commented that he thinks Bitcoin as a long-term investment makes sense now:
"I just need something that my kids will understand … and they will never understand gold and the reason why they'll never understand gold is they think gold's dangerous. It's dangerous because it can be stolen. It's dangerous because they don't want to take it out of the bank. My kids, when they get my inheritance, won't feel comfortable with gold and will feel comfortable with crypto."
Commenting on Bitcoin recently, Raoul Pal, CEO of Real Vision, revealed that he has deployed basically all of his liquid net worth in the leading cryptocurrency:
"Ok, last bomb – I have a sell order in tomorrow to sell all my gold and to scale in to buy BTC and ETH (80/20). I dont own anything else (except some bond calls and some $'s). 98% of my liquid net worth. See, you can't categorize me except #irresponsiblylong Good night all."
Analysts are optimistic that further strength in the Bitcoin price could lead to a bullish bid for altcoins.
Featured Image from Shutterstock
Price tags: ethusd, ethbtc
Charts from TradingView.com
Analysts Eye Ethereum Move to $800 as ETH2 Soon to Arrive