Analyst: Bitcoin Looks Exactly As It did Prior to 2017's 2,000% Rally
Multiple analyses have shown that Bitcoin looks primed to see a macro rally despite the ongoing uncertainty and lack of volatility.
Bitcoin Looks Extremely Similar to the Start of Previous Macro Rallies
According to a cryptocurrency trader, the simple chart below explains why he is currently bullish on Bitcoin. It shows the asset's macro price action with annotations of the halving and key cycle events.
In sharing the chart, the trader is suggesting that Bitcoin currently looks almost exactly like it did prior to 2013's and 2017's parabolic surges. Each previous surge brought the asset to a high that was effectively an order of magnitude higher than the last.
Should Bitcoin follow its historical path, it will see a strong breakout in the months ahead, then hit a new all-time high rapidly.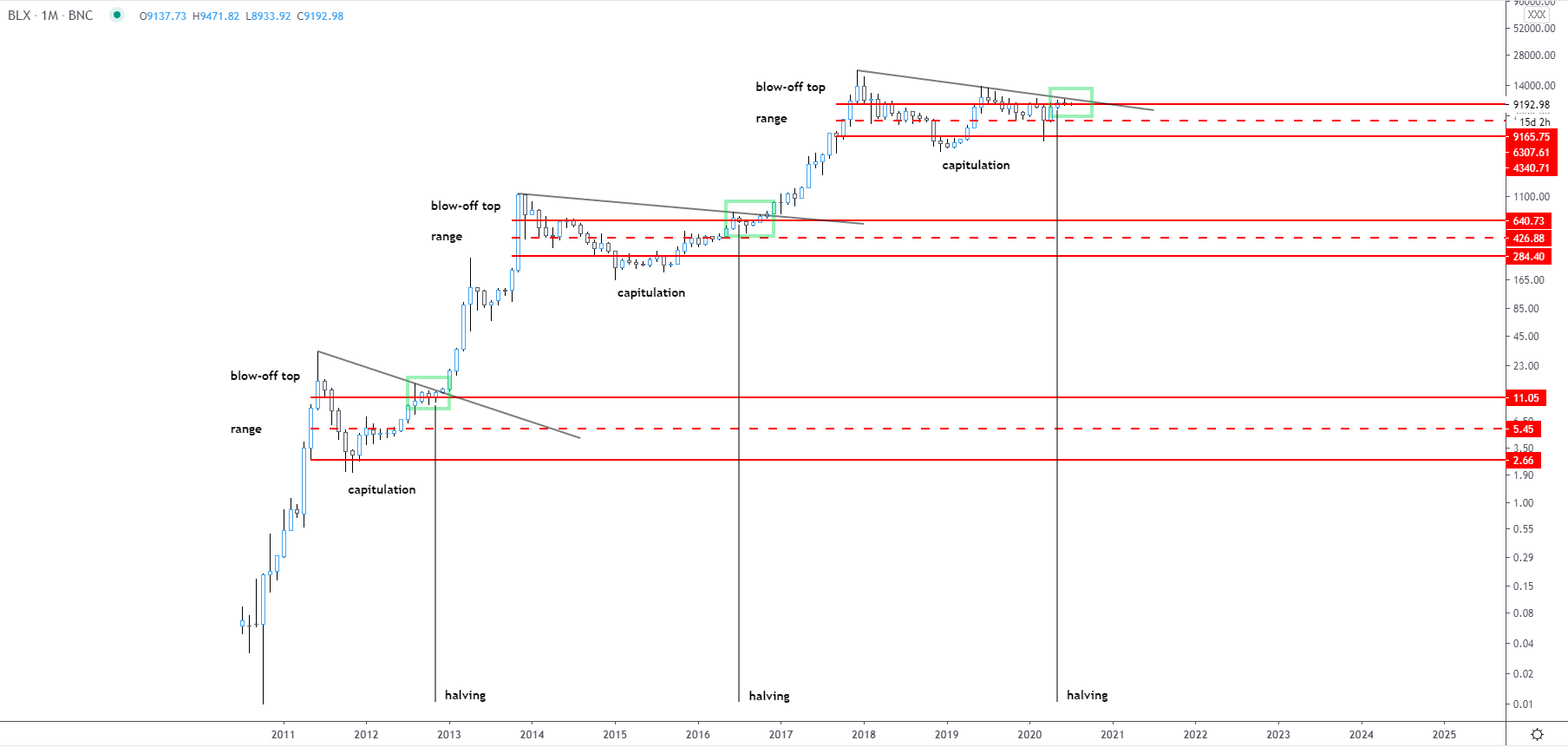 Macro BTC analysis by trader "Ethereum Jack" (@BTC_JackSparrow on Twitter). Chart from TradingView.com
This analyst's chart was published shortly after Charles Edwards, a digital asset manager and a prominent technical indicator creator, shared a similar chart.
Around the same time, Edwards also noted that one of his indicators, the Hash Ribbons, just confirmed a macro buy signal. The Hash Ribbons are an indicator that derives signals from a short-term and long-term moving average of the hash rate of the Bitcoin network.
This is important for BTC because each of these signals has preceded extremely strong rallies in this nascent market. In fact, analysis by Edwards has found that each time the signal has appeared, Bitcoin has rallied by approximately 5,000% on average in the months/years that followed.
The S&P 500 Effect
Despite this, a move lower in the S&P 500 could put a stop to any rally that the abovementioned analyses suggest.
As analysts on Wall Street and in the cryptocurrency space have recently noticed, a strong correlation has grown between Bitcoin and the S&P 500. There are multiple charts online showing that when the stock market moves, so does BTC, down to a few seconds or a few dozen seconds.
Bears may, unfortunately, take the upper hand as many have begun to predict a retracement in the stock market as valuations heat up. This sentiment is timely as we are entering the earnings season for Q2 2020, predicted by some to be the worst economic quarter in decades.
Scott Minerd, the global CIO of Guggenheim Investments, has predicted that the S&P 500 could drop to 1,600 in the months and years ahead.
There's also financial analyst Gary Shilling, who suggested that the stock market currently looks like that seen in the Great Depression:
"I think we've got a second leg down and that's very much reminiscent of what happened in the 1930s where people appreciate the depth of this recession and the disruption and how long it's going to take to recover."
Should stocks plunge dozens of percent again, it's unlikely that Bitcoin won't be affected in some negative way.
Featured Image from Shutterstock
Price tags: xbtusd, btcusd, btcusdt
Charts from TradingView.com
Analyst: Bitcoin Looks Exactly As It did Prior to 2017's 2,000% Rally