OKEx Adds DMG and CELO Tokens, Expands DeFi Projects Portfolio
The #FinanceAll goal of the world's leading crypto exchange and trading platform OKEx is now another step closer following the listing of a couple of new tokens belonging to emerging DeFi projects. The two new cryptocurrencies, DMM Governance Token (DMG) and Celo Gold (CELO) were listed on July 16, with spot trading against USDT and BTC going live the next day on July 17.
CELO is the utility and governance asset on Celo, a mobile-first, blockchain solution that makes financial tools accessible to all. While Celo offers the necessary financial infrastructure, the other project — DeFi Money Market, DMM in short offers blockchain-powered, asset-backed lending solution. The listing of these two projects closely follows another important DeFi project Compound whose COMP tokens were also listed a few weeks ago.
By extending support to various emerging projects in the DeFi space, OKEx has consolidated its position as a leading player in promoting the development of decentralized finance industry.
The CEO of OKEx, Jay Hao said "OKEx has long-regarded DeFi as one of the most important development directions of blockchain and cryptocurrency. From passive income to digital currency lending, as an innovator in the industry, OKEx has been expanding our footprint in this growing arena." Further adding, "We are very pleased to see projects such as DMG and CELO with innovative breakthroughs in the lending and stablecoin fields as we believe that they represent the future innovative direction of DeFi and blockchain."
DeFi: More Than Just Blockchain
The top executives at OKEx have always believed that blockchain technology and DeFi is the only way to provide financial access to millions if not billions of unbanked across the world. They have also previously stated that stablecoins will play a vital role in that mission. Meanwhile, the term DeFi itself is relatively new, first coined in August 2018 by Brendan Forster – co-founder of a crypto-lending platform Dharma.
According to Forster, DeFi should have 4 major characteristics:
Be built on the blockchain
Belongs to the financial field
Have code that is open source
Have stable developers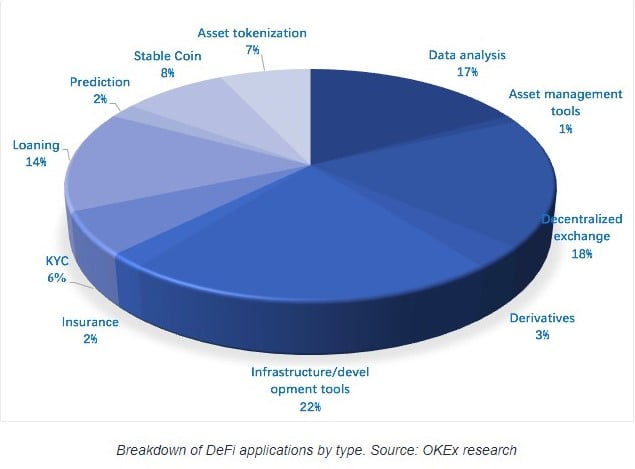 Most of the present-day blockchain financial applications conform to all the 4 points, and a brief analysis of the current industry trends shows that majority of the applications in the field are more focused on Infrastructure/development (22%) and Data analysis (17%). Stablecoins, lending, and decentralized exchanges are other popular applications of DeFi which can meet many real-world financial needs.
OKEx believes that the definition of DeFi should extend beyond the concept of blockchain, and more towards the application of various technologies to ensure accessibility of financial services to all without depending on existing infrastructure and a handful of traditional financial institutions. However, the platform is enthusiastic about working together with all the stakeholders in the global financial system to address a much larger issue of "unbankedness"
Along similar lines, Jay Hao commented, "… the development direction of DeFi is to get rid of the dependence on the dividend brought by the concept of 'blockchain' and focus on the application scenarios to solve the problem of unbanked under the existing world financial system. Given that, innovation is the only way out."
Hao also shared an optimistic view on the recent collaboration, "OKEx appreciates the innovation of DMG and CELO in DeFi, and we also believe that more and more such innovative and practical projects will appear in the future. As a pioneer in the industry, we are very willing to cooperate with it to promote the further development of DeFi."