Analyst: Bitcoin Fractal Predicting a Surge to $20k By January Is "Still Alive"
Save for the slight 2-3% rally seen on Tuesday, Bitcoin's price action over the past few weeks has effectively been non-existent. On a macro scale, the cryptocurrency looks as though it has flatlined, stuck between $8,900 and $9,400, with bulls and bears failing to establish a trend.
Yet an analyst who predicted Bitcoin would see a V-shaped reversal hours after it hit $3,700 remains bullish. He recently shared a fractal analysis suggesting that by the start of 2020, the leading cryptocurrency will trade near $20,000 for the second time in its history.
Fractal Predicts Bitcoin Could Hit $20k By January 2021
In technical analysis terms, a fractal is a pattern of price action that is repeated over different time frames and/or for a different asset. As Investopedia explains, "Fractals also refer to a recurring pattern that occurs amid larger more chaotic price movements."
According to one cryptocurrency analyst, Bitcoin is currently trading almost exactly as the Nasdaq did after 2008's Great Recession crash. He drew attention to crucial similarities between the two charts, writing that he wants to give a "Friendly reminder that this fractal is still alive."
From a narrative and price action perspective, this seems to be the case: the historical Nasdaq chart and current Bitcoin chart have extremely similar price action. Also, both the Nasdaq and BTC have similar underlying narratives as markets largely driven by the exponential nature of technology.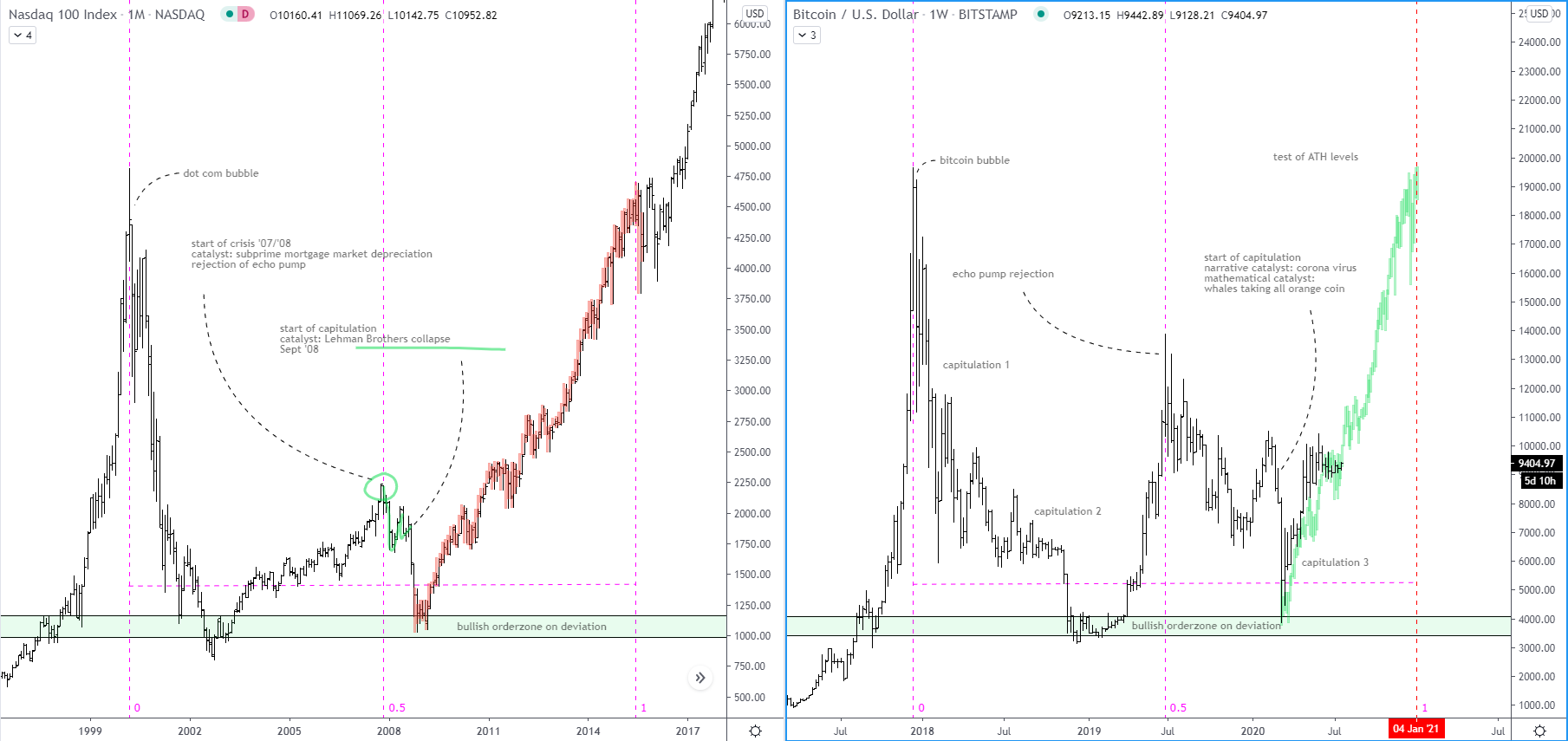 Side-by-side comparison of the Dotcom Boom and Bust, and the chart of Bitcoin by cryptocurrency trader "Ethereum Jack" (@BTC_JackSparrow on Twitter). Charts from TradingView.com
Should the fractal play out in full, Bitcoin will trade around $20,000 by the start of January 2021, per his analysis.
Analysts Agree
As optimistic as the fractal may seem, there are many analysts and industry executives believe that Bitcoin hitting $20,000 by 2021 is entirely possible.
Bloomberg senior commodity analyst Mike McGlone said in a June report that Bitcoin could hit $20,000 as long as it follows the path it took in 2016.
"Bitcoin is mirroring the 2016 return to its previous peak. That was the last time supply was halved, and the third year after a significant peak… Fast forward four years and the second year after the almost 75% decline in 2018, Bitcoin will approach the record high of about $20,000 this year, in our view, if it follows 2016's trend."
There's also a fundamental case for this, some have said.
Arthur Hayes, the CEO of BitMEX, said in a blog post published earlier this year that BTC is likely to end the year at $20,000. He attributed this strong sentiment to the vast amount of money printing being done by central banks.
Featured Image from Shutterstock
Price tags: xbtusd, btcusd, btcusdt
Charts from TradingView.com
Analyst: BTC Fractal Predicting a Surge to $20k By January Is "Still Alive"