These 2 On-Chain Signs Suggest Ethereum's Long-Term Trend Is Positive
Ethereum has been on a remarkable rally over the past few weeks. Since the start of July, when the asset was trading closer to ~$220, ETH has literally doubled. It trades just shy of $440 as of this article's writing, flat in the past 24 hours.
Although some see this move as an impulsive surge that isn't sustainable, on-chain metrics show that Ethereum is in a good spot. They add to the positive technical signals ETH has formed over recent months.
Ethereum's On-Chain Fundamentals Are Bullish
According to Santiment, a blockchain analytics firm, Ethereum is a good place in terms of its fundamentals. The company noted in an August 16th analysis that two pivotal on-chain metrics are nearing or are at all-time highs:
"The $ETH daily transaction count neared an all-time high this week. Its ATH of 1.34M was set back on Jan 4, 2018 when #Ethereum had an average market price of $1,042. Earlier this week its transaction count was within shouting distance at 1.27M. $ETH transaction fees also broke all-time highs two days in a row, with fees of 17.8k $ETH (8/12) and 20.3k $ETH (8/13)."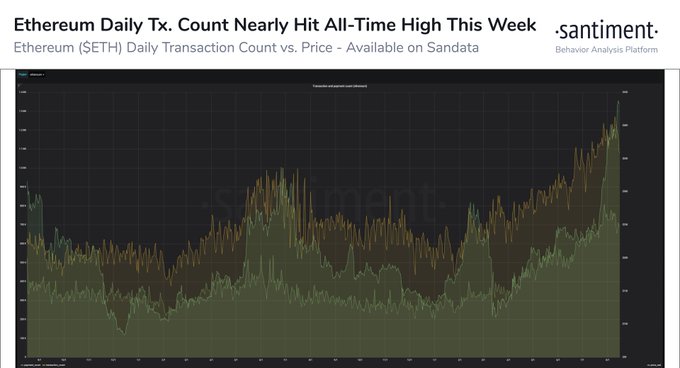 Chart of ETH's price action with the number of daily transactions from Santiment, a blockchain analytics firm.
Santiment claims that these two metrics reaching these levels "is a good long-term sign of things to come for #Ethereum holders."
Tangentially related to this, analysts have found that there is somewhat of a correlation between Ethereum network activity and the value of ETH. This is likely due to the fact that to send transactions interacting with Ethereum, ETH must be spent.
Technicals Corroborate Expectations of Upside
Technical analysts also think Ethereum is in a good spot from a short-term and longer-term perspective.
As reported by NewsBTC, the head of technical analyst at Blockfyre, a cryptocurrency research firm, said:
"$ETH looking ready for another leg up imo. $450 weekly resistance up next on the plate. Wouldn't be surprised to see a lot of this alt money flow into Eth and see some healthy corrections across the board short term. Reducing some exposure to move to Eth."
On Ethereum's long-term outlook, the same trader who predicted the point at which BTC would bottom in 2019, noted recently that ETH has upside because its one-month MACD has crossed into the green.
Photo by Etienne Girardet on Unsplash

Price tags: ethusd, ethbtc
Charts from TradingView.com
These 2 On-Chain Signs Suggest Ethereum's Long-Term Trend Is Positive