Despite 10% Drop From Highs, Ethereum Holds Pivotal Moving Average
From Monday to Wednesday, Ethereum suffered the first strong correction seen in a few weeks. The asset slipped from the highs of $440, set the week before, to approximately $395, a drop of around 10%.
This drop was worse than that of Bitcoin. The leading cryptocurrency only lost 8% from its local highs, with bears disallowing BTC from holding above the pivotal $12,000 price level.
Many analysts were shaken up by this drop. One noted that there's a possibility Ethereum unwinds to $300, citing a potential "head and shoulders" formation appearing on its chart.
Though, it's important to note that ETH held a pivotal technical level during this correction. ETH's ability to maintain that level should lead to more upside, as it suggests the uptrend formed many days ago remains intact.
Ethereum Holds a Pivotal Technical Level in Win For Bulls
In a decisive win for bulls, Ethereum has held above an important technical level during the recent retracement.
One cryptocurrency trader shared the chart seen below on August 20th. It shows that despite the 10% correction ETH faced, the asset held the pivotal 20-day simple moving average.
The 20-day moving average is seen by many traders as a level for assets to hold during an uptrend.
This is evidenced by Ethereum's price action in the chart below. As can be seen, there was an occasion last week where Ethereum cleanly bounced off the moving average. The chart also indicates that as soon as ETH broke above the moving average at the end of June, it began the shocking rally that took it from $240 to $440 in a matter of weeks.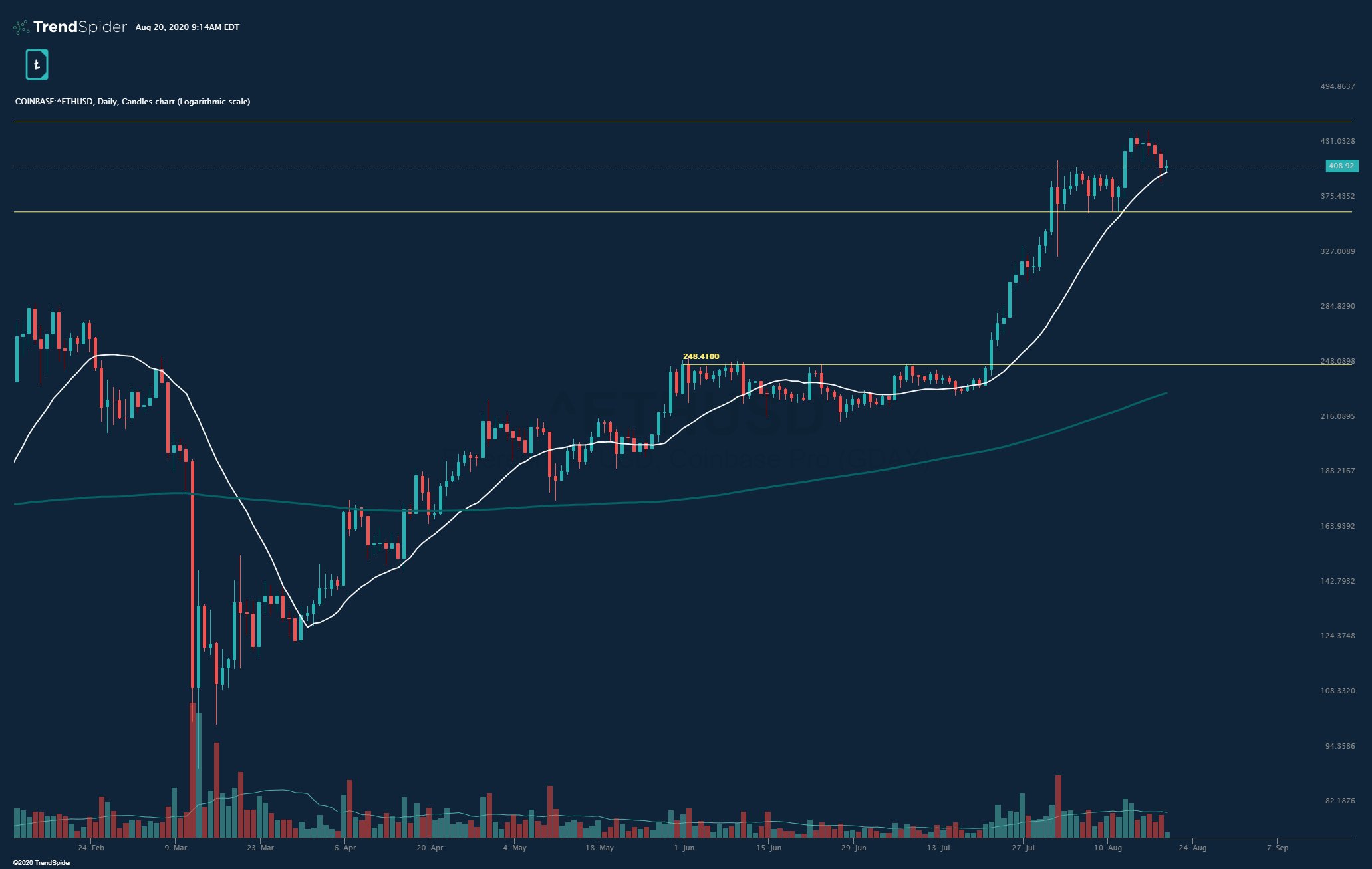 Chart of ETH's price action since the Feb. highs with a moving average analysis by trader Ledger Status (@ledgerstatus on Twitter). Chart from TradingView.com
Moving forward, ETH should maintain this crucial support level if it is to maintain its bullish uptrend. If the asset falls below this level, analysts may then begin to question the validity of the sentiment that Ethereum will set new highs.
ETH Fundamentals Remain Strong
Underscoring Ethereum's strong technical uptrend are fundamentals.
Despite a bug, the first phase of ETH2 is expected to launch in 2020. ETH2 is the term describing an all-encompassing upgrade to the Ethereum protocol that will dramatically overhaul how transactions are processed and how nodes reach consensus.
Analysts expect the launch of ETH2 to catalyze growth in the Ethereum market due to the introduction of staking and a faster blockchain.
Featured Image from Shutterstock
Price tags: ethusd, ethbtc
Charts from TradingView.com
Despite 10% Drop From Highs, Ethereum Holds Pivotal Moving Average