Users React to Cardano's First Staking Pay Out
Staking on the Cardano network got underway on July 29th with the Shelley mainnet launch.
Almost a month on from that date, IOHK CEO Charles Hoskinson took to Periscope seeking community feedback on the first-ever staking reward payout, which happened yesterday.
"I just wanted to make sure everyone got what they expected, the staking calculator was accurate, if there were any problems. Or if everything was looking good."
First Epoch Rewards! https://t.co/LTVDLQBxrw

— Charles Hoskinson (@IOHK_Charles) August 24, 2020
Some stake pool operators suggested ways in which smaller pools could gain more exposure. Whereas others asked about tweaks to the setup parameters.
But overall, most users reported a positive experience that was in line with their expectations.
Cardano Annual Delegation Reward is Currently 5.1%
The Cardano network determines staking rewards based on several factors. This includes the number of staking pools, the saturation of a delegated pool, and block production efficiency.
In the run-up to staking, these variables were largely unmapped. However, based on estimates, IOHK gauged a 4.6% annual delegation reward. At the time, this figure left many Cardano users feeling dejected.
With close to a month of live staking data, the native calculator shows a current annual delegation reward slightly higher than the initial estimate, of 5.1%.

Source: cardano.org
Similarly, most users who reported their rewards stated a payout rate of around 5%. But this will vary depending on the performance of individual pools delegated to.
Got just over 5% so happy, as expected. Good stuff.

— Wingard McSnip (@InsatiableMcS) August 24, 2020
Network Performance Gives IOHK Confidence to Hand The Network Over to Stake Pool Operators
In terms of Cardano's network performance, Hoskinson was keen to point out that the network is showing signs of stability.
With that, as per the decentralization parameter, the ratio of slots created by federated nodes will decrease in favor of stake pool operators getting a bigger slice.
"we're making blocks reliably, stake pool operators are making blocks reliably… the d-parameter keeps going down and down and down, to that ring of fire, down to zero, so it's all going without a hitch."
In a post by IOHK software engineer, Kevin Hammond, full decentralization is described as the ultimate goal of IOHK. For that to happen, the d-parameter must move from 1 to 0.
But the speed with which that will happen is dependent on network performance.
"The journey that d will take from 1 to 0 is a nuanced one that requires a careful balance between the action of the protocol and the reaction of the network and its community. Rather than declining instantly, d will go through a period of 'constant decay' where it is gradually decremented until it reaches 0."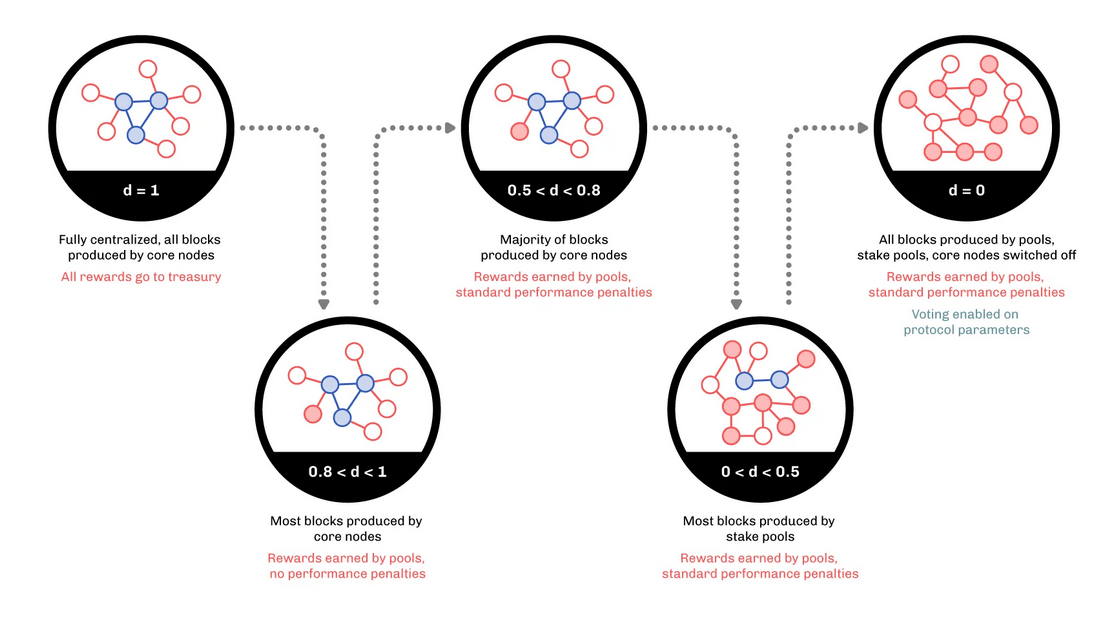 Key milestones of the d-journey. (Source: iohk.io)
Hoskinson is quoted as saying Cardano will eventually become 50-100 times more decentralized than other protocols. Namely Bitcoin, which many consider the most decentralized network at present.
While Cardano is still some way to realizing that goal, stakeholders can feel satisfied with the progress made so far.
Cardano daily chart with volume. (Source: tradingview.com)