Why Bitcoin Price Holding Above $11,850 Is Pivotal For the Bull Case
Bitcoin has begun to move higher after a crushing correction towards the end of last week. As of this article's writing, the leading cryptocurrency trades for $11,750, around 3% higher than last week's lows and around 5.5% below last week's highs.
According to most analysts, Bitcoin is in no man's land. It is safely trading above the $11,500 weekly support but remains below the $12,000 resistance.
But a new on-chain analysis by a cryptocurrency data site suggests Bitcoin is on the verge of flipping a pivotal level into support. BTC doing so could set the stage for upside, upside that will take the asset back above $12,000.
Bitcoin Must Move Above $11,850: Analysis
Bitcoin is not yet in the clear despite bouncing 3% from the $11,380 lows of late last week.
According to data shared by WhaleMap, a cryptocurrency data site tracking on-chain trends, $11,850 is a crucial supply zone for Bitcoin. $11,850 is a level at which many cryptocurrency whales acquired BTC in the past, suggesting it is an on-chain resistance.
Speaking about the importance of $11,850 to Bitcoin's price trajectory in the near term, WhaleMap wrote:
"Hourly whale bubbles (still in dev mode) show few more resistances we need to consolidate above. Most major one is at ~$11850. If we clear that – we are above a strong supply zone. Overall, I feel we need to consolidate above ~$11,850 for price to make the second leg on the daily and on-chain shows that it's somewhat likely due to HODLer profit taking being bought up."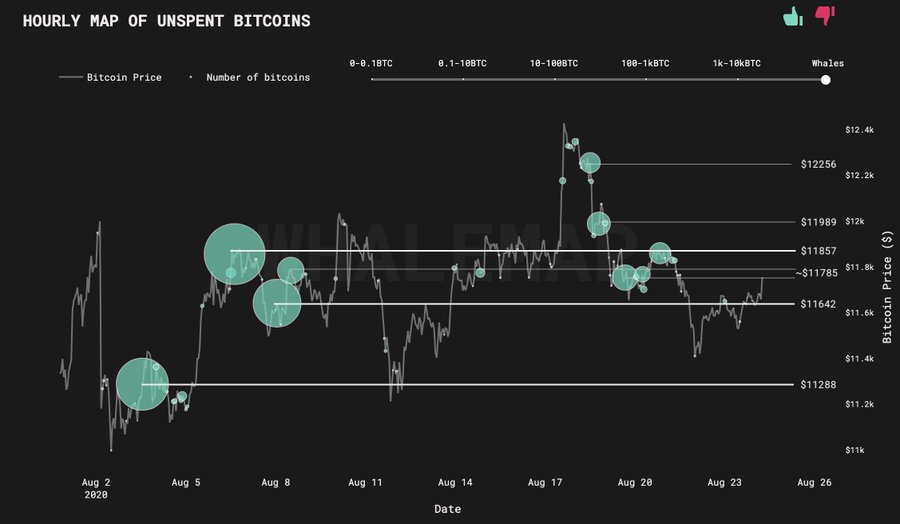 Chart of BTC's price action with unspent Bitcoin analysis by crypto data site Whalemap.io (@Whale_map on Twitter)
Who Is Driving the BTC Price, Bull or Bears?
With analysts eyeing $11,850, it's worth asking which subset of investors is driving Bitcoin, bulls or bears.
According to analysts, with BTC bouncing strongly at the $11,400 level, it seems as though bulls are in control. One trader explained that from how he sees it, $11,400 is where a confluence of three technical levels meet, making Bitcoin's bounce extremely significant.
"Opened up a completely fresh chart for $BTC and to be honest, looks kinda good on the daily. Could be worse tbh. Below 11380 it'll look like trash though."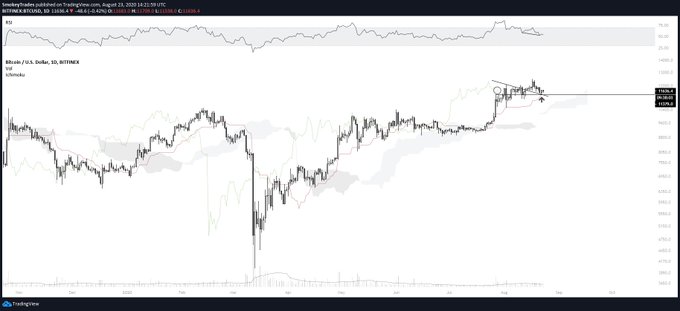 Chart of BTC's price action over the past year with an analysis by crypto trader Smokey (@TraderSmokey on Twitter). Chart from TradingView.com
This underlying technical strength suggests Bitcoin will soon move above $11,850, which could trigger an even greater move higher.
Featured Image from Shutterstock
Price tags: xbtusd, btcusd, btcusdt
Charts from TradingView.com
Why Bitcoin Price Holding Above $11,850 Is Pivotal For the Bull Case