2 On-Chain Signals Show Ethereum Has Room to Run After 10% Jump
Ethereum has room to rally after surging 10% in the past 48 hours, according to recent on-chain data shared by Santiment. The blockchain analytics firm just noted that there are a number of trends suggesting ETH has room to extend to the upside.
ETH's latest bout of strength comes as Bitcoin has inched higher as the U.S. dollar has continued its spiral to the downside. The Dollar Index is seemingly dictating the directionality of all assets, as these markets are denominated in the foreign currency.
Ethereum Has Room To Rally: Santiment, a Blockchain Data Firm
Blockchain analytics firm Santiment believes that Ethereum is primed to move higher due to two on-chain trends.
The company noted on August 31st that the number of ETH being held off exchanges is on the rise, suggesting accumulation. Simultaneously, the top 100 non-exchange addresses (meaning Ethereum whales) have cumulatively increased their holdings by 8.2% in the past five weeks, also suggesting accumulation:
"$ETH's total coin supply held off exchanges continues to rise, and is +3.63% since bottoming on March 24, shortly after Black Thursday. Meanwhile, the top 100 non-exchange addresses have increased bags by +8.2% in just 35 days. Both are bullish signals."
These two trends should lead to growth in Ethereum's price due to basic supply-demand dynamics, which dictate that an increase in demand should result in an increase in an asset's equilibrium price.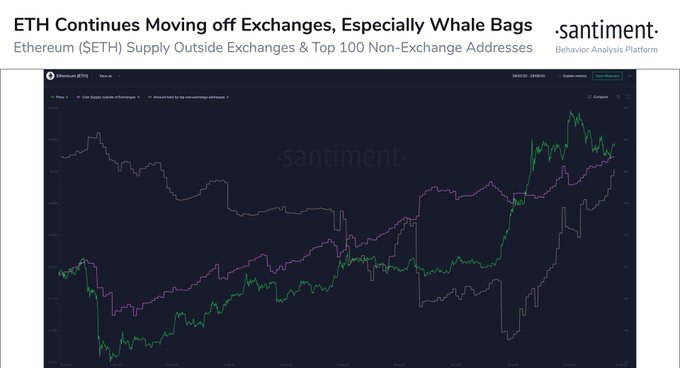 Chart of ETH's price action over the past few months with on-chain data shared by crypto/blockchain data firm Santiment (@Santimentfeed on Twitter).
Launch of Yearn.finance's yETH Could Boost Price Further
The launch of Yearn.finance's yETH product is likely to spur investment activity in Ethereum, driving prices even higher.
When it launches in the coming days or weeks, yETH will be an investment vehicle that allows investors to obtain high yields on their Ethereum deposits.
Analysts say that the launch of this product will cause an influx of capital to flood into Ethereum. In fact, some of ETH's 10% rally over the past two days has been attributed to hype around Yearn.finance's yETH.
Photo by elCarito on Unsplash
Price tags: ethusd, ethbtc
Charts from TradingView.com
2 On-Chain Signals Show Ethereum Has Room to Run After 10% Jump